FREE screening of poignant, insightful, and topical films on themes related to diversity, inclusion and equity.
Third Saturdays, October-April (except December) at NOON.
Edmonds Theatre
415 Main Street, Edmonds

SPONSORED BY Rick Steves' Europe, Edmonds Center for the Arts, Edmonds Theater and the Edmonds Diversity Commission


October 20, 2018
Double Feature!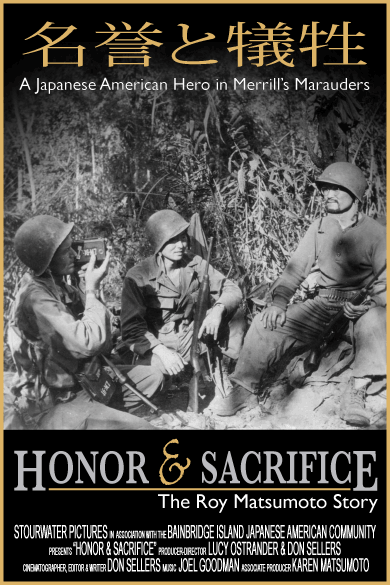 Honor & Sacrifice tells the complex story of a Japanese immigrant family ripped apart by WWII. The Matsumoto family included five sons; two who fought for the Americans and three who fought for the Japanese. The eldest, Hiroshi (Roy), became a hero, fighting against the Japanese with Merrill's Marauders, an American guerrilla unit in Burma. He was born near Los Angeles, educated in Japan, and became a hero when he used his Japanese language skills and military training to save his surrounded, starving battalion deep in the Burmese jungle. At the same time his parents and sisters were living in their family's ancestral home, Hiroshima. The story is told by Roy's daughter Karen as she discovers her father's work in military intelligence, kept secret for 50 years. 28 min. Movie Trailer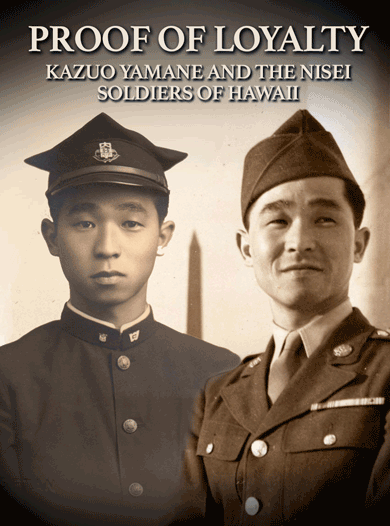 Proof of Loyalty: Kazuo Yamane and the Nisei Soldiers of Hawaii tells the story of a Japanese American who played a crucial strategic role in World War II. He and his fellow Nisei from Hawaii combatted prejudice and discrimination to loyally serve their country. Their extraordinary service, mostly untold, ultimately changed the course of U.S. history. Kazuo Yamane's father, Uichi, came to Hawaii in the late 19th century with nothing and built a successful family business. His eldest son, Kazuo, first educated in the discriminatory school system in Hawaii, eventually graduated from Waseda University, the Harvard of Japan, and returned to Hawaii just before the Pearl Harbor attack. Drafted just before the war he became part of what would be the War Department's most successful social experiment, taking Nisei troops from Hawaii and forming the 100th Infantry Battalion, a unit made up of a group entirely related to a country we were at war with. Their success was spectacular, but Kazuo was plucked from their ranks for his exceptional knowledge of Japanese, which would lead him to the Pentagon, to a secret facility in northern Maryland, and finally to serving under Eisenhower in Europe. Most importantly, he would identify a secret document which would help to shorten the war in the Pacific. The absolute loyalty of the Nisei to America in World War II, despite discrimination and incarceration, provides an insight for us today. These American citizens used whatever skills they had to protect their beloved country, even while many Americans suspected them of being the enemy. The War Department trusted them and through them gained both a military advantage by strength and sacrifice on the battlefield to important intelligence behind the lines. Diversity powers America, but also keeps us safe — one only has to look at the Nisei to provide ample proof. 54 min Movie Trailer

SPECIAL APPEARANCE! Filmmaker Lucy Ostrander, together with Karen Matsumoto (daughter of Roy) and Edmonds resident, Joyce Yamane (daughter of Kazuo Yamane), will attend at this screening.



November 17, 2018
The Only Good Indian Set in Kansas during the early 1900's, a Native American boy (newcomer Winter Fox Frank) is forced to leave his family and attend a distant Indian "training school" to assimilate into white society. He escapes from the institution and bounty hunter, Sam Franklin (Wes Studi) is hired to track him down. Franklin was an Indian scout for the U.S. Army and has renounced his heritage and adopted the white man's way of life believing it's the only way for Indians to survive. Both are eventually pursued by an enemy of Franklin. Winner of 34th Annual American Indian Film Festival for Best Director, Best Supporting and Best Actor. Not rated. Some violence. Kickapoo and Cherokee subtitles. Movie Trailer
January 19, 2018

Bully Filmmaker Lee Hirsch examines five cases of youths who endure vicious persecution at the hands of their peers. Ja'meye, 14, winds up in reform school after pulling a gun on the youths who tormented her for years. Cameras record the abuse suffered by 14-year-old Alex as he's beaten and teased on the bus. Star athlete Kelby, 16, is ostracized and worse after she comes out as lesbian. Most tragic of all, two boys, one 17 and one 12, commit suicide to escape the torture. Movie Trailer














February 16, 2018

Old Goats is a comedy that features three elderly men playing themselves, but within a fictional framework. The story blends fiction and reality. Britt lives alone on a boat and searches for excitement and romance in his life. Bob writes a book of memoirs about his life as a soldier, para-trooper, and bush pilot, but is uneasy about revealing his sins as a younger man. David is struggling to adapt into retired life while living with his bossy wife. The story is about each man's attempt to change his ways. Movie Trailer













March 16, 2018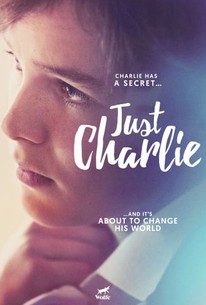 Just Charlie Young soccer star Charlie has the world at his feet. With a top club desperate to sign him, his future is seemingly mapped out. But the teenager sees only a nightmare. Trapped in the body of a boy, Charlie is torn between wanting to live up to her father's expectations and shedding this ill-fitting skin. Charlie's next move will tear the family apart and threaten everything they hold dear. Movie Trailer














April 21, 2018

Paper Tigers chronicles a year in the life of Lincoln High School in the community of Walla Walla, Washington. The kids who come to Lincoln have a history of truancy, behavioral problems and substance abuse. After Lincoln's principal is exposed to research about the effects of Adverse Childhood Experiences (ACEs), he decides to radically change the school's approach to discipline. With the aid of diary camera footage, the film follows six students. From getting into fights, grappling with traumatic events in their lives, and on the cusp of dropping out, they find healing, support and academic promise at Lincoln High. Movie Trailer